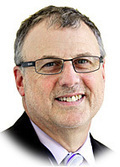 Recent events make all of us wonder how people, especially young people, develop legitimate concern for others. Empathy is essential for a healthy society.
Empathy — the ability to understand and care about how other people feel, a fundamental aspect of humanity.
Recently, our country became aware of the devastating consequences that happen when there is a dramatic failure of empathy. Developing and maintaining empathy for others, even in the face of strong dislike or disagreement, is one of society's most pressing concerns.
Tony Hacker