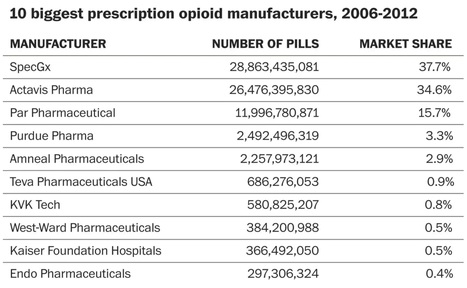 Several drug companies with locations in the Delaware Valley were among the top producers and distributors of opioid pain pills during the time the crisis was beginning to grip the country, according to a Washington Post analysis of a federal database (read "KVK Tech - Located in Newtown Township - is #7 Among the TOP TEN Biggest Rx Opioid Manufacturers! According to DEA Database").
The Post and a West Virginia newspaper company fought for the release of the database, which is part of an ongoing lawsuit filed by state, local and county governments from across the country against numerous drug companies.
Bucks County and several area municipalities, including Newtown Township, Bensalem, Morrisville and Warminster all are pursuing their own lawsuits against various drug companies, executives and others seeking damages related to the opioid crisis. [Read "PA Sues Purdue Pharma: If They Won't Negotiate, Then We Must Litigate!" and "Newtown Files Suit Against Opioid Manufacturers and Distributors"]
Newtown Township Supervisor John Mack was surprised to see KVK Tech near the top of the list of drug manufacturers.
"It's not something I would like Newtown Township to be known for," he said.
He has objected in the past to the company's plans to expand in the township, citing the opioid crisis.
"We can't afford to ignore the impact of the opioid crisis on our own people," Mack said he told zoning board members during a 2017 hearing about variances requested by KVK Tech.
"This is an opportunity to do a small part in reducing the over prescribing of opioid painkillers," he continued. "Shouldn't the community where these pills are manufactured do what it can to reduce the flow by denying expansion of production in the center of town? At the very least, we should insist KVK Tech do more to help solve the problem."
[Read "Attacking the Root of the Opioid Crisis - Pharmaceutical Companies"]