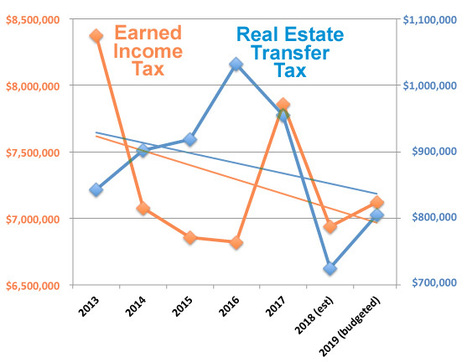 After less than 15 minutes of discussion, the board of supervisors approved the final $13,002,335 general fund operating budget for the 2019 fiscal year beginning Jan. 1.
The proposed package, which was approved in a 5-0 vote at the Dec. 12 meeting, is a little more than three percent higher than the 2018 budget but includes no property or other tax hike.
Voting to approve the 2019 final budget were: Chairman Phil Calabro, along with Supervisors Linda Bobrin, Dennis Fisher, Kyle Davis and John Mack.
According to the budget, Newtown will end the 2018 fiscal year on Dec. 31 with an estimated budget surplus of $2,538,208, which is about what was earlier projected.
However, Supervisors Davis and Mack questioned whether this so called 'net fund balance' is adequate to ensure the township's future financial stability, of if a higher amount is needed on the books to ensure a healthy fiscal picture for township auditors.
"It's a concern, it's getting lower and lower every year," stated Mack.
Last year at this time, the township ended fiscal year 2017 with a $3.14 million net fund balance.
Chairman Calabro also expressed his concerns of the dwindling surplus, noting, "We need to find ways of raising revenues in the future."
Like many municipalities, Newtown relies mostly on the Earned Income Tax for most its revenues instead of traditional property taxes, as some local governments impose, such as neighboring Lower Makefield and Middletown Townships.
Newtown's EIT accounts for more than half of all revenue collections.
In 2019, the EIT is expected to haul in about $7 million, which is slightly higher than the year-end projected numbers for 2018.
The Earned Income Tax is by far the largest revenue generator in the budget and is collected on the wages of residents, whether they work in or outside the township, as well as those non-residents who are employed in Newtown Township.
Under state law, the tax cannot exceed one percent of a person's pay. Newtown Township's EIT is one percent, and if a non-resident's home municipality doesn't have one, then Newtown gets the entire amount which it splits with the Council Rock School District.
If a non-resident's home municipality does impose an EIT, then Newtown must split it with that local government.
However, over the years more Bucks County municipalities have enacted an EIT, which has affected Newtown's collections.
Another substantial revenue generator is the real estate transfer tax which property buyers and sellers must pay. The township splits those collections with the state.
That tax is expected to generate about $800,000 in 2019, up slightly from this fiscal year's anticipated collection of $719,250 by Dec. 31.
But the township's total real estate transfer tax collections will be about $22,000 lower than original expectations for the current budget year because of lagging home sales.
During his budget presentation to the supervisors in October, Lewis had stated that anticipated future shortfalls in revenues "will become more evident with capital expenditures that are needed."
The township's seven-member finance committee is already targeting what areas to look at for increasing revenues and cutting costs.