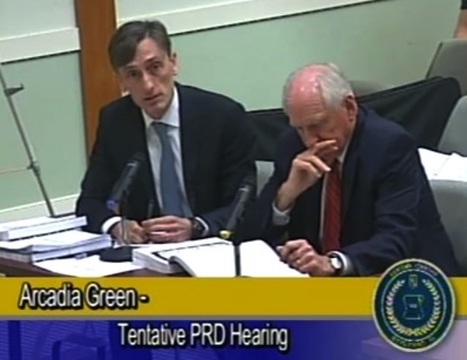 Arcadia at Newtown Holdings wants to build 23 single-family detached homes and 53 townhomes near the intersection of Buck Road and Newtown Bypass. Township supervisors denied two previous versions of the developer's plan, following multiple hearings packed with concerned residents.
Supervisors listened to feedback from representatives of Arcadia at Newtown Holdings on Wednesday evening regarding plans for 76 residences — 23 single-family detached homes and 53 townhomes — on 22.5 acres near the intersection of Buck Road and Newtown Bypass, as part of a walkable community with built-in open space.
Board members rejected two previous versions of the plan for Arcadia Green, first with 34 residences and then with 85, dating back to 2015, citing multiple concerns largely under the umbrella of traffic issues.
As with the previous plans, Arcadia submitted its proposal as a tentative planned residential development — a measure that bypasses the township's regular project approval process but requires supervisors to hold at least one public hearing, where they can hear testimony from members of the development team and review plan components, before reaching a decision.
Arcadia attorney John VanLuvanee told supervisors they would be denying the developer due process if they proceeded with a third round of hearings, rather than hashing out project details in private through mediation.
VanLuvanee accused the board of effectively condemning the property where Arcadia Green has been proposed by denying the previous plans, and unsuccessfully requested multiple supervisors recuse themselves from voting on the new plan on account of previous "no" votes or external criticisms of the development.
He added Arcadia is prepared to appeal a third denial of the project to county court, as it has with the previous two plans, in cases that both are still pending (read "Arcadia Green Sues Newtown Township").
Of township residents, VanLuvanee said, "It seems as if the public has decided that this property really is their property to do with as they please, not the owner's property to do with as it pleases, subject to compliance with township zoning regulations."