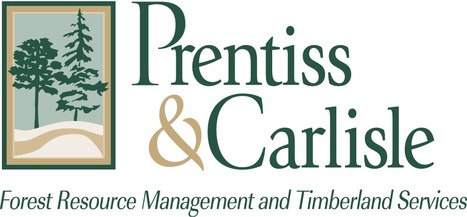 Prentiss & Carlisle is one of the largest timberland asset managers in North America. P&C provides ongoing management services on approximately 1.75 million acres of timberland located in Maine, Michigan, New York, Vermont, Wisconsin, Ontario and Quebec. Nearly every acre under management is certified by the Forest Stewardship Council through either our clients or through P&C itself, which holds FSC certificates for both Forest Management and Chain-of-Custody.
P&C provides turnkey land management from long-range forest planning through on-ground forestry, marketing of forest products, harvesting, transportation, road construction and maintenance, stump-to-mill accounting and reporting, client cash management, administration of third-party relationships, public advocacy/representation and strategic asset planning. P&C also provides specialized consulting services in related areas of expertise:
Timber inventory design, execution and analysis

G&Y modeling and timber harvest scheduling

GIS mapping and data management services

Timberland valuations and appraisals

Acquisition and disposition due diligence

Market studies

Timber supply modeling
About this magazine
Our aim is to provide a gathering place for news and opinion about timberland investing. We cover both publicly traded issues including listed timber companies, real estate investment trusts (REIT's), and exchange traded funds (ETF's), and the more private world of institutional investing in timberland. Our focus is on: the rationale for investing in timberland; performance of publicly traded timber investments; timberland deals and transactions; timber supply, demand and prices, and; public policy issues that impact timberland investing. Not interested in all of these topics? You can easily filter the stories by using the Tags button above.
We encourage readers to interact with our site:
Click on the Follow button (upper left), and Scoop.it! will deliver a summary of our new content to your inbox every morning.
Click the Share button above or at an individual story to Tweet or post a link on Facebook.
Click the Suggest button above to propose content for inclusion in the magazine. If the story is accepted, you will be credited as the source with a link that can drive traffic to your own website, Facebook page, blog, etc.
Some useful links
Stock quotes, news and financial metrics
These links take you to customized Google Finance pages for timber REITS, indexes and other publicly traded companies of interest:
Other publicly traded timber companies [coming soon]
Prentiss & Carlisle newsletters
Quarterly updates on conditions in our operating regions
Lake States price reporting service published by P&C