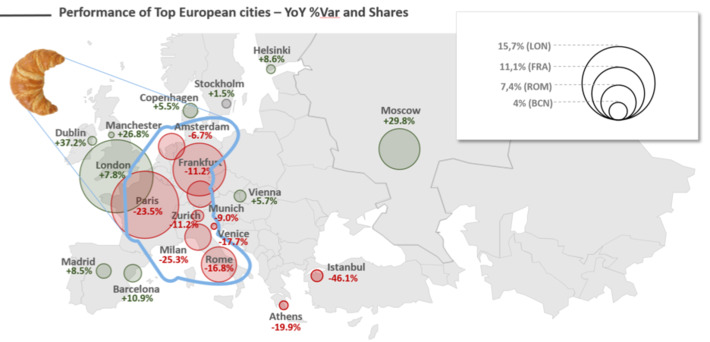 Our latest ForwardKeys analysis reveals that Chinese outbound travel bookings to Europe are -7.7% down over the period from mid-November 2015 to mid-October 2016. However, the picture is decidedly mixed. Countries, which ForwardKeys describes as the 'Croissant Countries' are very substantially down whereas other parts of Europe are substantially up.
The terror attacks in France have frightened off visitors from China. As many Chinese tour itineraries include the neighbouring countries – Benelux, Germany and Italy – they too have lost Chinese visitors. The geographic area can be described by putting a croissant over the map of Europe which is why we are calling them the 'Croissant Countries'.
Analysis of future bookings to France from the Asia Pacific region reveals that in the period through to the end of 2016, bookings are currently running -21% behind where they were at the equivalent moment last year. As would be expected, bookings are also running behind for the other croissant countries.
Download your own copy with further detail here: ForwardKeys Chinese desert croissant countries report.