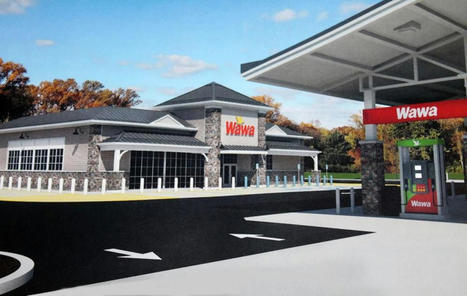 Provco Pineville Acquisitions has submitted a zoning application to the township seeking a special exception to build a Super Wawa on the Newtown Bypass at Silver Lake Road [across from Crossing Community Church].
Provco officially submitted its application to the township on March 17 seeking the special exception along with zoning relief for signage and the number of fueling dispensers [read "Wawa is Back!"].
The submission comes six months after the board of supervisors voted 3 to 2 to pass a municipal curative amendment that added a combination gas station and convenience store as a special exception in its office/research zoning district.
Supervisor Kyle Davis, in voting against the ordinance, argued that the ordinance gives developers exactly what they're looking for. "The OR is mostly on the bypass. I think we're giving too many pumps and too much acreage. And I think we should have considered moving it to light industrial or office light industrial. Make it unattractive and put it somewhere else and not on the bypass. Putting it along the bypass just makes it more attractive to everyone."
Supervisor John Mack agreed with Davis, adding his concern regarding the process.
"As far as when someone makes an application for this, and it will be Wawa, let's not kid ourselves, they're going to go first not to the board of supervisors to approve or not to approve, they're going to go to the zoning hearing board for a special exception. And when they go before the zoning hearing board they are going to ask for 18 pumps, a drive-thru and LED lighting along the bypass. They are going to ask for all of this stuff and they're going to get it and that's my concern."
Related Content: