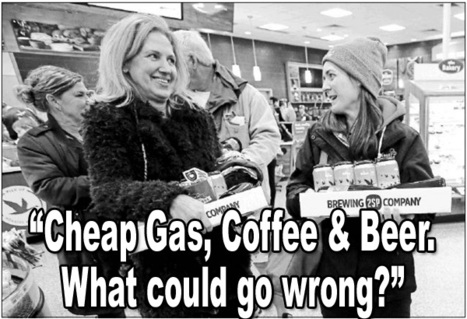 On the first day of Christmas, my Wawa gave to me, its own coffee beer from a local brewery.
A firkin was tapped, doors were politely held, and holiday cheer, fueled by free beer samples, was all around at the Wawa in Chadds Ford on Friday, during the Brew Tour kickoff and release party for Wawa's second boozy collaboration with 2SP Brewing.
Hundreds of people lined up around the building to be the first to buy fourpacks of 2SP's Winter Reserve Stout, an oatmeal stout steeped with Wawa's Winter Reserve coffee, and bottles of the new Reserve Reserve, a bourbon barrel-finished version of the original beer.
The Delco-proud brewery also partnered with breweries in two of Wawa's other markets — Florida and Virginia — to create Wawa coffee beers unique to those states. In Florida, 2SP collaborated with Coppertail Brewing in Tampa to make Snowbird Reserve Vanilla Porter, and in Virginia, it partnered with Hardywood Park Craft Brewery of Richmond to create Coffee Cake Reserve. Philadelphia-area fans who want to get their hands on Snowbird and Coffee Cake Reserve will have to take a road trip; each beer is exclusive to its market.
While customers in those states can easily buy their Wawa beer at Wawa, currently the only Wawa store in Pennsylvania licensed to sell beer is the one in Chadds Ford.
But that's soon to change. A new Wawa slated to open Thursday at 1073 Baltimore Pike, Middletown Township, will be the second in Pennsylvania to sell wine and beer, including 2SP's Winter Reserve (read "Middletown Loves Wawa! Approves Wawa with Gas Pumps on Lincoln Highway Less Than a Mile From Wawa on Trenton Road & Just 2 Miles from Wawa on Oxford Valley Road!"; http://sco.lt/6l7Uwa). Wawa has also obtained liquor licenses for a store in Philadelphia and one in Clifton Heights, though the location of those stores and when they'll start selling alcohol remain unknown.