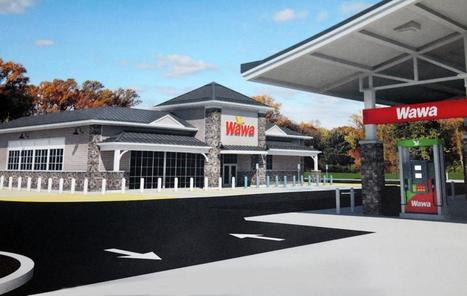 A proposal to build a Wawa in an office-research zone on the Newtown Bypass took a step forward Tuesday [April 2, 2019] night in what is expected to be a long road to a final up or down vote.
In a consensus decision, the township's Planning Commission recommended that the board of supervisors support the concept and to ask the jointure to consider amending the Joint Municipal Zoning Ordinance (JMZO) to include a new use - motor vehicle fueling center - in the office research zone.
Five planners - Paul Cohen, Mary Donaldson, Jerry Festa, Craig Deutsch and Kierstyn Zolfo - said they support the concept. Weighing in against the concept were planners Allen Fidler, Peggy Driscoll and Andrew Jacobs.
Wawa has been pressing for an amendment to the JMZO, which would allow it to build a convenience store and fueling station at Lower Silver Lake Road and the Newtown Bypass across from Crossing Community Church. [Read "Developer and Attorney Present Their Case for a Wawa Superstore on the Newtown Bypass"].
The sale of gasoline as an accessory use to a retail operation is currently not permitted in the office-research zone, or for that matter anywhere in the Joint Municipal Zoning Ordinance (JMZO) making the ordinance challengeable, Wawa's land use attorney John VanLuvanee told planners Tuesday night.
VanLuvanee opened the latest discussion with the planners by pointing out the exclusion and raising a recent court decision regarding a proposal for a Wawa in Plumstead Township.
In that case Wawa brought a substantive challenge to the validity of the ordinance. "We contended the ordinance was exclusionary because it did not provide a motor vehicle fueling center," said VanLuvanee.
"The point that is made by that decision is that things change. New uses evolve. This is a legitimate land use at this point. This case may be appealed, but you have at least one judge who has said that," said VanLuvanee. [Read "Facing $130,000 in Legal Expenses, Plumstead Chooses to Challenge Wawa Ruling"]
The JMZO, said VanLuvanee, was written at a time when petroleum was sold by gas stations and doesn't take into account today's modern convenience stores that sell petroleum as a product.
"The entire jointure is lacking any provision allowing modern fueling centers, in this particular case a Wawa," said VanLuvanee. "If you assume that a retail use selling gasoline as a product is a legitimate land use then your entire jointure is vulnerable," he told the planners.
The question, he said, is whether the JMZO has a hole in it. "You have the ability to control it by enacting an amendment that provides the use in a particular zoning district," he said. "Or you have the option of sitting back until someone takes a challenge and you may end up with something Upper Makefield, Wrightstown or Newtown may not want."
"This is a fundamental change from OR to a commercial gas station," said [former supervisor Gerry Couch]. "It's not what can we do to make it pretty or more palatable. This is taking OR and putting in a commercial gas station. How many of those do we want on the bypass?"
Resident Norm Seeger, who lives near the proposed location, said if the Wawa is built the name of the Newtown Bypass will have to be changed "because it won't be a bypass anymore. The bypass was built to eliminate stopping at places like this. Once this is built, others will develop as well. You need to listen to 'We the people' and not 'We the Wawa," he told the planners.
Still others, including Shelley Howland, said they're excited by the prospect of a Wawa coming into the township.
Read the full article for more comments from residents.