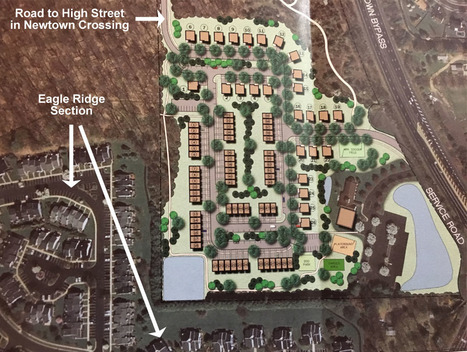 A controversial development is again proposed for a 25-acre tract on the northwest corner of Bucks Road and the Newtown Bypass.

This time residents from adjoining communities are not only upset about the loss of open space and increased traffic in their backyard, but also oppose plans to tear down a home on an existing cul-de-sac in Newtown Crossing so that an exit road can be built for the proposed development.

More than a 100 residents, most of them from Newtown Crossing and nearby Eagle Ridge developments, packed a public hearing during the Oct. 11 supervisors' meeting, the first of several hearings on the matter (read "Newtown Crossing vs Arcadia: Truth to Power!"; http://bit.ly/2ApfQuy).

The proposed Arcadia Green development, also known as the Wynmere/Karr tract, is again the subject of the Philadelphia-based Arcadia Land Co.'s Planned Residential Development (PRD) application.

In December 2015, the supervisors had unanimously rejected Arcadia's proposed housing development to build 33 single-family homes on 19.2 acres.

At the time, the board cited a number of concerns, mostly traffic safety and the accessibility to the number of housing units.

This time around the company has purchased some more parcels, so the tract now totals roughly 25 acres. The recent purchase includes a small piece of land owned by the neighboring Newtown Reformed Church, which supports the planned development.

According to Arcadia's president Jason Duckworth, the new plans calls for 85 smaller units in a mixed-use, "walkable" community with open space.

"We specialize in 'walkable' development communities," he said.

In addition, Duckworth noted that he has spent three years working on the plans, as well as meeting with neighboring associations to "overcome concerns of the previous application, especially traffic."

The latest public hearing was the start of the new PRD application, which is permitted by state law.

Under the process, the township's normal planning and zoning channels are bypassed. It gives the supervisors sole authority to approve a development plan in an expedited manner while allowing developers to fast-track their projects.