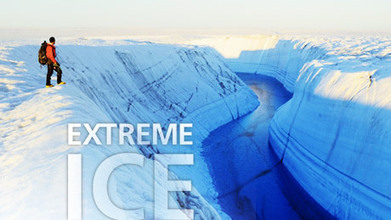 WATCH
OUR RADICALLY CHANGING PLANET
"EXTREME ICE" - UNPRECEDENTED
PBS Nova
http://www.pbs.org/wgbh/nova/earth/extreme-ice.html
AND
http://video.pbs.org/video/1108763899/
For the First Time in Human History We are Witnessing an Unprecedented Change to our Environment and Planet. Ice is far more sensitive to temperature changes than we thought and ice is melting twice as fast as a decade ago.
Program Description
▶ AN ALARMING INSIGHT INTO OUR MELTING ICE GLACIERS AND WHAT THIS MEANS FOR OUR PLANET AND YOU
Follow photojournalist James Balog to some of the most remote and beautiful places on Earth as he documents the disappearance of an icy landscape that took thousands of years to form. Remarkable time-lapse footage reveals massive glaciers and ice sheets splitting apart, collapsing, and disappearing at a rate that has scientists alarmed. This NOVA-National Geographic Television special investigates the latest evidence of a radically warming planet.
Recent findings are that glaciers in Greenland and Antarctica are melting at an ever-faster rate. What explains this alarming acceleration, and just how do you figure out what's happening inside a gigantic wall of ice? In this high-action scientific adventure, Nova investigates the mystery of the mighty ice sheets that will affect the fate of coastlines around the world.
International Business Times, February 25, 2014
-▶ RISING SEA LEVELS TO SWALLOW LOW-LYING ISLANDS WITH RARE ANIMAL SPECIES http://au.ibtimes.com/articles/540429/20140225/climate-change-global-warming-island-sanctuaries-new.htm
Planet Earth OnLine, January 13, 2014
▶ GLACIER'S RETREAT IS NOW IRREVERSIBLE - SCIENTISTS
Pine Island Glacier, the largest single contributor to sea-level rise in Antarctica, has started shrinking, say scientists.
Pine Island glacier. The work, published in Nature Climate Change, shows the glacier's retreat may have begun an irreversible process that could see the amount of water it is adding to the ocean increase five-fold... http://planetearth.nerc.ac.uk/news/story.aspx?id=1588&cookieConsent=A
▶ MORE ON NATIONAL GEOGRAPHIC http://www.natgeotv.com/ca/extreme-ice
Greenpeace
SAVE THE ARCTIC
http://savethearctic.org/
▶ OBAMA'S ARCTIC STRATEGY SETS OFF A CLIMATE TIME BOMB. THE SUICIDAL RACE FOR ARCTIC'S NATURAL RESOURCES http://sco.lt/5pPxWD
Guardian Environment, January 09, 2014
-▶ ANTARCTIC PENGUINS FORCED UP 100 FOOT ICE WALLS, STUDY SHOWS. Warmer temperatures are forcing emperor penguins to make gravity-defying journeys out of their traditional breeding grounds http://www.theguardian.com/environment/2014/jan/09/penguins-ice-walls-climate-change-antarctica
▶ GREENLAND'S MELTING CREATING A DIFFERENT CLIMATE THAN EARTH HAS EVER SEEN http://sco.lt/8eqdbF
WATCH
"EXTREME ICE SURVEY"
Time-lapse proof of extreme ice loss. 95% of glaciers in the world are either retreating or shrinking
http://www.ted.com/playlists/30/natural_wonder
Times Of India, December 25, 2013
▶ SOS 54 YEARS AGO WARNED ABOUT VANISHING GLACIERS. Scientists are anxious that melting glaciers are causing earth's axis to shift, creating new changes in weather patterns. http://timesofindia.indiatimes.com/home/environment/global-warming/SOS-54-years-ago-warned-about-vanishing-glaciers/articleshow/27912295.cms
▶ STANFORD EXPERTS FEAR COLLAPSE OF GLOBAL CIVILIZATION: NATURE IS THE KEY http://sco.lt/7XY0pt
YES Magazine, January 3, 2014
▶ WHAT IF WIINSTON CHURCHILL WERE LEADING THE FIGHT AGAINST CLIMATE CHANGE? http://www.yesmagazine.org/issues/how-to-eat-like-our-lives-depend-on-it/winston-churchill-leading-fight-climate-change
Journal "Science" Study
▶ 4 TRILLION TONS OF ICE MELT RAISING SEAS AT ALARMING RATE http://sco.lt/6h48Jd
▶ AUSTRALIAN HONEYBEES UNABLE TO MAKE HONEY: THEIR HIVES ARE MELTING AS TEMPERATURES SOAR http://www.huffingtonpost.com/dr-reese-halter/australian-honeybees-unable-to-make-honey_b_4670475.html
Common Dreams, January 31, 2013
▶ REPORT: CLIMATE CHANGE HAS ALREADY BROUGHT CATASTROPHE TO U.S. WILDLIFE http://sco.lt/629ivR
Business Green, January 15, 2014
▶ BP: GLOBAL EMISSIONS TO SOAR 29 PERCENT BY 2030 http://www.businessgreen.com/bg/news/2323190/bp-global-emissions-to-soar-29-per-cent-by-2030?utm_term=&utm_content=headline_title&utm_campaign=BG.Daily_RL.EU.A.U&utm_medium=Email&utm_source=BG.DCM.Editors_Updates
Before It's News, January 14, 2014
▶ OFF THE CHARTS: THE UNBELIEVABLE LIST OF HEAT RECORDS BROKEN IN 2013 http://beforeitsnews.com/environment/2014/01/off-the-charts-2013-australias-hottest-year-the-unbelievable-list-of-heat-records-broken-in-2013-2490202.html
Al Jazeera America, January 13, 2014
▶ NORTH CALIFORNIA 100 YEAR DROUGHT THREATENS FARMERS, AG WORKERS, CITIES -- AND YOU http://america.aljazeera.com/articles/2014/1/14/california-droughtthreatensfarmersagworkerscitiesandyou.html

IN PICTURES
BRUTAL DROUGHT LINGERS IN BRAZIL
THE COMING LEGAL RECKONING:
Guardian, December 29, 2013
▶ IT WON'T BE LONG BEFORE THE VICTIMS OF CLIMATE CHANGE MAKE THE WEST PAY http://www.theguardian.com/commentisfree/2013/dec/29/poorer-countries-climate-change-case
Rolling Stone, October 3, 2011
▶ CLIMATE CHANGE AND THE END OF AUSTRALIA http://www.rollingstone.com/politics/news/climate-change-and-the-end-of-australia-20111003 http://ow.ly/sD4jz
▶ DEEP SEA MINING RUSH MOVES CLOSER AS ICE MELTS, DEVASTATING OCEAN SEABEDS, DESTROYING UNKNOWN ECOSYSTEMS http://sco.lt/8JChPN
Care2, December 25, 2013
▶ IT'S TIME TO STOP PORTRAYING CLIMATE CHANGE AS A 'DEBATE' http://www.care2.com/causes/its-time-to-stop-portraying-climate-change-as-a-debate.html
RTCC, December 23, 2013
▶ WHY 2013 IS A CRITICAL YEAR FOR THE POLITICS OF CLIMATE CHANGE http://www.rtcc.org/2013/12/23/why-2014-is-a-critical-year-for-the-politics-of-climate-change/
Guardian Environment, January 2, 2014
▶ DEEP SEA CREATURES WILL NOT ESCAPE CLIMATE CHANGE - STUDY http://www.theguardian.com/environment/2014/jan/02/deep-sea-creatures-climate-change
VIDEO
Climate Citizen, December 25, 2013
▶ DARK MONEY - WHO FUNDS CLIMATE CHANGE DENIERS IN THE UNITED STATES? http://takvera.blogspot.com/2013/12/dark-money-who-funds-climate-change.html

Summit Voice, December 23, 2013
▶ CLIMATE CHANGE DENIALISM: FOLLOW THE MONEY http://summitcountyvoice.com/2013/12/23/climatechange-denialism-follow-the-money/
Truthout, December 26, 2013
▶ CLIMATE CHANGE 2013: WHERE WE ARE NOW - NOT WHAT YOU THINK - To prevent increasingly dangerous climate change, the public and our leaders must be convinced to act decisively and robustly. As the latest data show, changes are occurring more quickly than scientists have ever predicted, and simple emissions reductions are no longer the answer. http://truth-out.org/news/item/20751-climate-change-2013-where-we-are-now-not-what-you-think
Global Possibilities, October 30, 2013
▶ STUDY: ARCTIC SEA ICE LOSS SHIFTS JET STREAM, DRIVING DELUGES IN NW EUROPE, DROUGHT IN MEDITERRANEAN http://www.globalpossibilities.org/study-arctic-sea-ice-loss-shifts-jet-stream-driving-deluges-in-nw-europe-drought-in-mediterranean/
VIDEO (4:00)
THE EARTH'S NEXT 100 YEARS, VISUALIZED
▶ DRILL, BABY, DRILL: IN THE MIDST OF RECORD OIL, GAS BOOM AND CLIMATE CHANGE, OBAMA ADMIN STILL SEEKS MORE AND MORE PRODUCTION http://sco.lt/6ff30D
Mongabay, December 23, 2013
▶ WORLD FIRST: RUSSIA BEGINS PUMPING OIL FROM ARCTIC SEABED http://news.mongabay.com/2013/1223-hance-russia-arctic-oil.html?n3ws1ttr
ZEN MASTER, THICH NHAT HANH:
▶ ONLY LOVE FOR MOTHER EARTH CAN SAVE US FROM CLIMATE CHANGE http://sco.lt/7Sfb6H
Al Jazeera, December 10, 2013
▶ HOW CLIMATE CHANGE DESTROYS HUMAN RIGHTS http://www.aljazeera.com/humanrights/2013/12/how-climate-change-destroys-human-rights-20131217174532837148.html
▶ "WE HAVE FIVE MINUTES BEFORE MIDNIGHT" - IPCC REPORT, UN CHIEF SCIENTIST URGES ACTION ON CLIMATE CHANGE http://sco.lt/7C0zyb
▶ CLIMATE CHANGE WILL IMPACT US ALL http://www.scoop.it/t/changingplanet