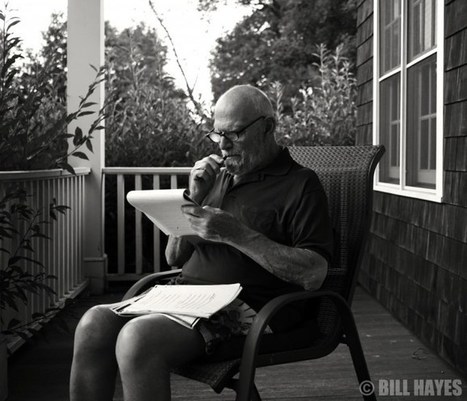 "Living has yet to be generally recognized as one of the arts," proclaimed a 1924 guide to the art of living. That one of the greatest scientists of our time should be one of our greatest teacher in that art is nothing short of a blessing for which we can only be grateful — and that's precisely what Oliver Sacks (July 9, 1933–August 30, 2015), a Copernicus of the mind and a Dante of medicine who turned the case study into a poetic form, became over the course of his long and fully lived life.

In his final months, Dr. Sacks reflected on his unusual existential adventure and his courageous dance with death in a series of lyrical New York Times essays, posthumously published in the slim yet enormously enchanting book Gratitude (public library), edited by his friend and assistant of thirty years, Kate Edgar, and his partner, the photographer Bill Hayes.

In the first essay, titled "Mercury," he follows in the footsteps of Henry Miller, who considered the measure of a life well lived upon turning eighty three decades earlier. Dr. Sacks writes:

'Last night I dreamed about mercury — huge, shining globules of quicksilver rising and falling. Mercury is element number 80, and my dream is a reminder that on Tuesday, I will be 80 myself.

Elements and birthdays have been intertwined for me since boyhood, when I learned about atomic numbers. At 11, I could say "I am sodium" (Element 11), and now at 79, I am gold.

[…]

Eighty! I can hardly believe it. I often feel that life is about to begin, only to realize it is almost over.'

Having almost died at forty-one while being chased by a white bull in a Norwegian fjord, Dr. Sacks considers the peculiar grace of having lived to old age:

'At nearly 80, with a scattering of medical and surgical problems, none disabling, I feel glad to be alive — "I'm glad I'm not dead!" sometimes bursts out of me when the weather is perfect… I am grateful that I have experienced many things — some wonderful, some horrible — and that I have been able to write a dozen books, to receive innumerable letters from friends, colleagues and readers, and to enjoy what Nathaniel Hawthorne called "an intercourse with the world.''

I am sorry I have wasted (and still waste) so much time; I am sorry to be as agonizingly shy at 80 as I was at 20; I am sorry that I speak no languages but my mother tongue and that I have not traveled or experienced other cultures as widely as I should have done.'"