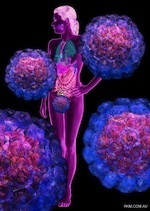 There are over 100 different types of human papilloma virus (HPV). Cervical cancer is known to be caused by infection with approximately 14 so-called "high-risk" types of this virus.

Researchers from Manchester looked at the different types of HPV found in cervical smears and invasive cervical cancers from HIV positive and HIV negative women in Kenya. They found high numbers of a specific type of HPV (type 53) in normal cervical smears from HIV positive women, but this was rarely found in HIV negative women. This sub-type was also never found in cervical cancers from either HIV positive or negative women.
Dr Ian Hampson, a Senior Lecturer in Viral Oncology from The University of Manchester who lead the study, said: "It is well known that HIV increases the number of different types of HPV found in any one patient which implies that HIV opens the door for infection with multiple types of HPV. If only high-risk types are present these will undoubtedly accelerate progression to cancer whereas if other types (eg type 53) are also present they may actually compete with the high-risk types to inhibit progression to cervical cancer."