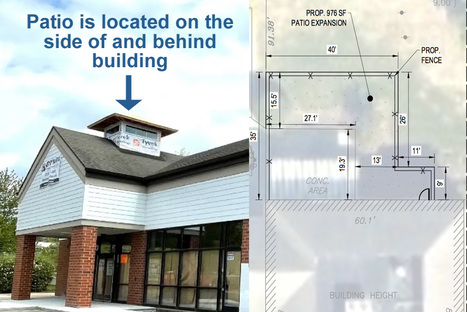 The Blue Point Grill (BPG) on Monday, May 1, 2023, asked the Newtown Township Zoning Hearing Board for relief to build an outdoor paver patio to accommodate additional seating at the soon-to-open seafood restaurant at 3 West Road.
UPDATE (May 1, 2023): In a unanimous vote, the Newtown Zoning Hearing Board granted the owners of Blue Point Grill permission to expand its outdoor dining area on the north side of the building by 960 square feet, enough to fit an estimated 12 to 16 additional tables. BPG will now need to amend the conditional use application, which means one more appearance before the board of supervisors. More...

The 976 square foot patio would increase impervious surface at the site by .10 percent, which the planning commission determined to be a de minimis impact and recommended against any opposition.

The supervisors followed the recommendation of its planning commission agreeing not oppose the variance request.