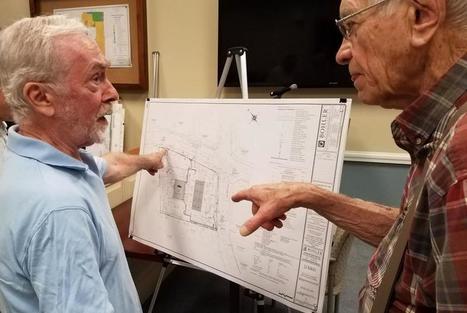 The legal battle over plans for a proposed Wawa fuel station and convenience store continued Thursday night and looks likely to remain ongoing for at least two more months.
The developer behind the Wawa began making their case to the township's zoning hearing board Thursday night that the fuel station and convenience store should both be allowed, while the township and Merck will continue their arguments over the next two months.
"The use is the issue. We are not arguing that the township has not provided enough fueling locations. We're arguing the use has not been provided for," said land planning consultant Charlie Schmehl.
More recently, the township's solicitor said in mid-July 2019 that the Wawa project is still the subject of a court fight and would need more testimony taken at the zoning hearing board level. That testimony continued at length Wednesday, with Schmehl and traffic engineer Joe Barron testifying on behalf of Wawa, and attorneys Jim Garrity and David Brooman opposing on behalf of the township and Merck respectively.
Testimony from the two witnesses took nearly three hours Thursday night, whit occasional interruptions for lawyers to confer or copies to be made, as the Wawa team argued the township's current codes should, but do not, allow the convenience store and fuel sales as a single use.
"If the township's position is right, and the only way that you can develop a convenience store with motor vehicle fuel sales is with a special exception for a 'service station' use — in other words, having two principal uses — then the ordinance, in our opinion, is exclusionary," said Van-Luvanee.
Garrity argued on behalf of the township that the gasoline sales and convenience store are both allowed in the township, and both could be allowed under certain conditions: "What we have said is, either way, it requires a special exception. That is what didn't happen here, and that's why we took an appeal, and why we have so many appeals out there."
"The applicant has the burden of proving the ordinance totally excludes — totally excludes — the proposed use. It clearly doesn't," he said.