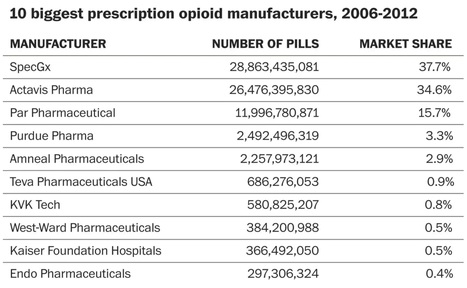 For the first time, a database maintained by the Drug Enforcement Administration that tracks the path of every single pain pill sold in the United States — by manufacturers and distributors to pharmacies in every town and city — is being made public.
The data, detailing nearly 380 million transactions, provides an unprecedented look at the surge of legal pain pills that fueled the prescription opioid epidemic, which resulted in nearly 100,000 deaths from 2006 to 2012.
A county-level analysis of the data shows the places most affected by the oxycodone and hydrocodone pills that were distributed across the country over a seven-year period: more than 76 billion in all.
Three companies distributed nearly half of the pills: McKesson with 14.1 billion, Walgreens with 12.6 billion and Cardinal Health with 10.7 billion. The leading manufacturer was Mallinckrodt's SpecGx with nearly 28.9 billion pills, or nearly 38 percent of the market.