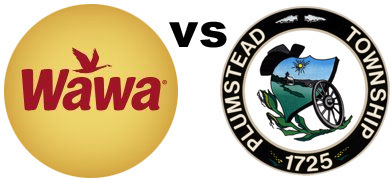 Chester County Court of Common Pleas Judge Robert Shenkin ruled on March 22, 2019, that Plumstead's zoning ordinance was a de facto ban on contemporary gas stations, a decision which could allow the plan on the property to move forward.
Plumstead supervisors voted 3-2 on March 26, 2019, to challenge the ruling. Lykon estimated the legal fight with the developer has already cost Plumstead taxpayers about $80,000, and an appeal to the state court could mean another $50,000 in legal expenses.
The developer, Doylestown II-Rt 313 TVC-ARC LP, proposes a 4,700-square-foot convenience store with 10 gas pumps at the intersection in an area known as Fountainville — the borderline of Dolyestown, New Britain and Plumstead townships.
Plumstead's zoning officer issued an initial opinion early in 2017 that the store was a "Gasoline Service Station" and not allowed at the intersection, but could go elsewhere in Plumstead.
The developer, a Verrichia Co. Partnership, appealed that opinion to the township's zoning board soon after arguing the store was a retail location first, and a gas station second.
The township's zoning laws allow retail sales in the neighborhood commercial zoning district the developer planned to locate, but consider gasoline sales as a primary use.
Attorneys from Eastburn and Gray argued this definition created a de facto ban on contemporary gas stations — retail convenience stores that sell fuel — but the zoning board sided with the township in September 2017.
The developer then filed the appeal with the Bucks County Court of Common Pleas two months later, dragging on for the next 13 months.
Pennsylvania zoning laws allow towns to regulate where different land uses can go, but prevent them from banning any development legally allowed in the state.
The decision by the court might also set a precedent for similar future appeals, Eastburn and Gray attorney Julie Von Spreckelsen said in a news release Friday.
"The decision marks one of the first legal instances of Pennsylvania courts recognizing that motor vehicle fuels are a product now widely sold by retail stores," Spreckelsen said.
Related:
 "Wawa Land Developer Takes Plumstead to Court to Appeal Decision by Zoning Hearing Board to Refuse Variances"; http://sco.lt/7l77A1
"Plumstead Residents Wary of "Closed Door" Deal to Settle Wawa Case and Urge Supervisors to Continue the Fight"; http://sco.lt/6IHTXN