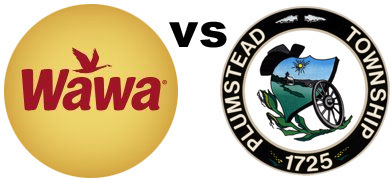 [As reported in the Bucks County Herald] Frustrated residents filled the Plumstead supervisors' meeting room to inquire about the board's position on the Wawa development proposed at the northwest corner of Swamp and Ferry Roads.
Verrichia Land Development proposes a 4,500-square-foot Wawa convenience store, gas station and office building on the 3-acre site.
The plan was reviewed for eight months by the township's zoning hearing board. The development required zoning variances since the property is zoned commercial-1, which does not allow for the proposed uses.
Variances were not granted and the plan was rejected. Verrichia has appealed the zoning hearing board's decision and awaits a court date in Bucks County Court of Common Pleas according to township solicitor Jonathan Reiss.
Plumstead resident, Joseph Reinheimer who has lived on Ferry Road near the site for 23 years said, "It has come to light that that the supervisors are considering a possible settlement with Verrichia, and residents would like back-door dealings to stop."
He asked the supervisors to support the zoning hearing board decision and residents' input and expressed dismay at the possibility of a settlement, when previously the board opposed the development.
Supervisor Brian Trymbisky said, "The board's position has not changed."
Jim Morano of New Britain Township told the supervisors, "If the temptation to settle with the developer and allow the project is because of the cost of litigation, give Plumstead and neighboring townships the opportunity to raise money to cover the cost of defense. "
Supervisor Brian Trymbiski reiterated, "The board's position has not changed."