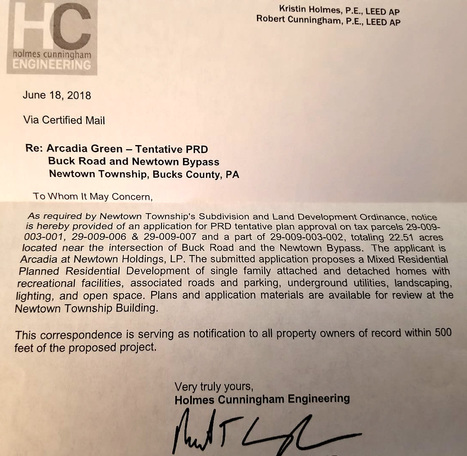 For the third time in three years, the Philadelphia-based Arcadia Land Development Co. has proposed a residential development off of Buck Road and the Newtown Bypass.
At the July 11 supervisors' meeting, township solicitor David Sander announced that the developer has submitted another Planned Residential Development (PRD) application which requires that the supervisors hold public hearings on the matter and render a decision within a certain timeframe.
In response to the new application for the Arcadia Green project, the supervisors voted 4-0 to hire Hill Wallack, LLP to represent the township in the PRD process as "special counsel."
Under the contract, the law firm, which has an office in Yardley, will be paid $135 an hour for its services.
Under the PRD process, which is permitted by state law, the township's normal planning and zoning channels are bypassed. It gives the supervisors sole authority to approve a development plan in an expedited manner while allowing developers to fast-track their projects.
In December, the supervisors had unanimously accepted a lengthy report which called for rejecting the controversial housing development, citing traffic as one of the key reasons.
That document had recommended that the board reject Arcadia Green, a proposed 85 unit residential development to be built on a 27.6 acre tract.
However, scores of residents in the adjoining Newtown [Crossing] and Eagle Ridge communities had expressed outrage over the proposal, claiming that it would create a traffic nightmare for the area.
Homeowners from the adjoining communities were not only upset about the loss of open space and increased traffic, but also had opposed plans to tear down a home on an existing cul-de-sac in Newtown Crossing so that an exit-only road could be built for the proposed development (read "Newtown Crossing vs. Arcadia").
Another exit road also had been planned for the Newtown Bypass, but PennDOT had not supported the developer's request.
It's not known what the newest proposal calls for, but it's expected to elicit renewed public criticism from neighbors, as well as detailed scrutiny from township leaders.
Arcadia Green was formerly known as the Wynmere/Karr tract.
Further Reading: