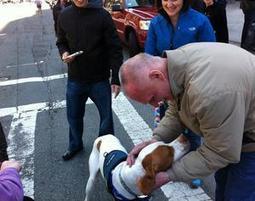 Paws with Compassion is a group of dedicated dogs and handlers who desire to alleviate suffering by offering open hearts and friendly paws.
Our varied backgrounds, experiences, and breeds enable us to engage with a broad population and address a variety of needs. We are proud to be the only therapy dog/K-9 crisis response group to require extensive, documented member training. Each team is interviewed and observed before joining Paws with Compassion. Once members, teams train and work regularly to maintain their skills.
Required training includes dog handling, canine body language, canine first aid, canine manners, therapy dog and crisis response dog handling, crisis intervention, crisis response, compassion fatigue, and appropriate response methods.