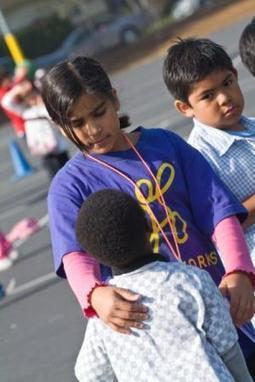 Eight strategies to develop youth's ability to understand their own feelings and others, empathy.
Help your children use their heads... And their hearts. A well-rounded education is more than just reading, writing, arithmetic and recess. To become successful adults, it's also critical that children learn to work together in and out of the classroom. Empathy, the ability to put oneself in another person's shoes, is learned through practice. And with empathy, children become better team members and are less likely to bully. We can help our kids develop self-awareness of their feelings, regulate their emotions, and understand the feelings of others. Try these eight strategies to teach your child empathy:
Teach kids vocabulary to identify feelings....
Practice identifying emotions, using faces.
Use children's natural interest in babies and toddlers to your advantage.
Help children cope with own emotions through calming techniques.....