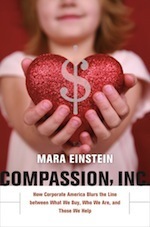 A new books explores what happens when corporations turn compassion into a commodity.
Every year, Avon, the cosmetics company, puts on a walkathon to help raise money for breast cancer research. The company raises a lot of money and it goes to a good cause. Sounds like a positive, feel good thing, right?

Wrong, according to a new book by Mara Einstein, Compassion, Inc.: How Corporate America Blurs the Line between What We Buy, Who We Are, and Those We Help.
Einstein, an associated professor of media studies at Queens College, has investigated the corporate practice of sponsoring charitable causes and come up with some troubling findings.
By Jill Suttie