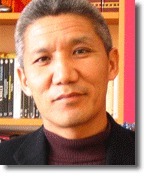 Inquiring Mind: Compassion training speaks to such a profound need in the world. How did this secular program come about?

THUPTEN JINPA: A group from Stanford went to see His Holiness [Tenzin Gyatso, the 14th Dalai Lama] to bring him a proposal for establishing a center for research and education in compassion and altruism. After a long discussion, His Holiness made a generous offer of quite a substantial donation to seed the program and said, "
I have two requests:
Whatever science you do, make sure that it is impeccable from a scientific standard.
And secondly, whatever program you develop for teaching compassion, make sure it is completely secularized and universalizable.