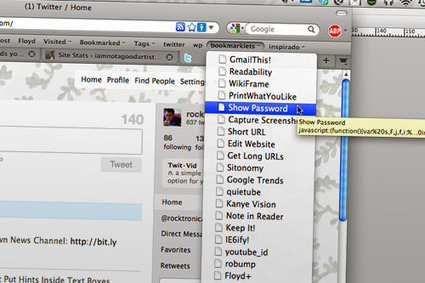 Try some of the best and most useful bookmarklets for Firefox, Google Chrome, Safari, IE, Opera and other web browsers. These bookmarklets help you do stuff without installing any add-ons.
1. Why Use Bookmarklet over Add-ons
If you were to choose between a bookmarklet and a browser add-on, both offering similar functionality, here are a couple of reasons why you may want to go with bookmarklets:
>> Add-ins are browser specific so tomorrow if you decide to move from Firefox to Opera or Google Chrome, your favorite add-ins will no longer work. On the other hand, a bookmarklet written for Firefox is very likely to work with Safari or IE.
>> Some add-ins can break (or won't install at all) if you try installing them on a newer version of the browser. And this is a big problem considering that new browser patches are released every couple of months.
>> Unlike add-ins that require installation, you can add and remove bookmarklets without restarting the browser.
>> Poorly coded add-ins can significantly slow down your browser while bookmarklets have negligible (if any) effect on memory usage as they are executed on-demand.
2. The Best Bookmarklets for Web Browsers
Now that you know the benefits of using a bookmarklet and how easy it is to add one to your own browser bookmarks, let me share some of my favorite bookmarklets that are both useful and powerful (selection) :
+ Capture Screenshot (and upload to online services)
+ ToRead.cc (send web pages by email)
+ Download PDF (download web pages)
+ Show RSS Feed (and subscribe in your newsreader)
+ PrintWhatYouLike (format web pages for printing)
+ Get Long URLs (rewrite all short links)
+ GMail This! (email message pre-populated with the selected text)
See the complete list of bookmarklets to add to your own browser bookmarks : http://goo.gl/7y5SA
Via
173 Sud