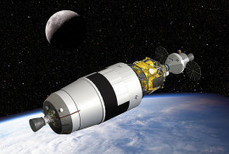 Given the current state of our technology, it is unlikely we will be venturing far into space this coming century. However over this same time period we will face tremendous challenges here on Earth. For our species to survive into the 22nd century, we will need to find ways to mitigate the worst effects of climate change, solve a host of related environmental problems, and stabilize our population. This will need to happen within the lifetime of many people who are alive today. Achieving such a transformation requires that we turn away from unsustainable growth-based models of resource use, and transition to a steady-state economy.
The Kardashev scale suggests that our energy requirements will continue to increase indefinitely as our civilization develops. However, as we saw above, the future of humanity depends on us being able to stabilize our numbers and live sustainably on the Earth. This implies that our energy consumption will inevitably reach a peak sometime in the next century, and flatten out thereafter. Planetary limits dictate that this must be so. Our civilization simply cannot advance fast enough to allow to us to perfect space travel before we run up against the limits imposed by nature.
If we consider the alternative hypothesis that any civilization destined to survive in the long term would have evolved to a steady-state economy long before they perfected space travel, then it is quite possible that there could be millions of such civilizations scattered through the universe, each quietly going about their own business. This is probably the best option for a long-term sustainable future for the human race. It is a future which most likely will include space travel, but not one in which space travel is a prerequisite for our survival.