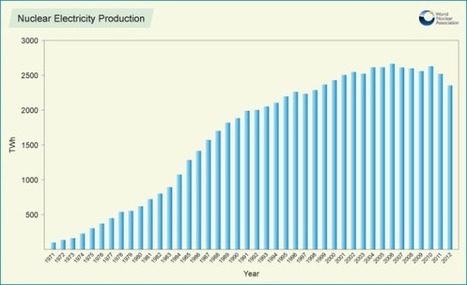 There's an enduring myth related to wind energy and nuclear energy that needs to be put to bed. That myth is that only nuclear can be scaled to sufficient capacity to reduce the impacts of global warming, and that wind energy is much less scalable so it should be ignored.

And there's another myth related to carbon capture and sequestration being more significant than renewables that has to be assessed as well.
China is the true test bed for maximum scalability of nuclear vs wind. It has a tremendous gap between demand and generation. It can mostly ignore lack of social license for nuclear. It is building both wind and nuclear as rapidly as possible. [...] And in four years it has built significantly less nuclear generation capacity than it built of wind generation capacity in 2013 alone.
Globally nuclear capacity has diminished and is expected to continue to diminish over the next few years as France shuts off 33% of its fleet in favour of mostly wind energy, Germany shuts off its fleet, [...] In empirical terms it doesn't matter what anybody claims is possible: wind energy is growing rapidly while nuclear is going backwards. That's reality.
What about the carbon capture and sequestration myth?
When coal burns, the carbon combines with oxygen, and the resulting CO2 weighs 2.86 times the weight of the coal. Close to three times the weight of coal in CO2 must be be shipped to somewhere else for sequestration.
Doing a little math, it's apparent that CCS will add from $168 to $196 to the cost of a MWh of coal generation. That's 16.8 to 19.6 cents per KWh which puts existing coal plants impossibly deep into unprofitable territory. For comparison, in the mid-West US states the total price of newly built wind generation including PPA, PTC, grid interconnections and additional ancillary services is 5.4 cents per KWh and dropping.
Where does this leave the claims about nuclear and CCS?
Nuclear isn't more scalable than wind or other renewables, in fact it's going in reverse while renewables are being expanded rapidly. And CCS won't dodge more climate change than renewables because wind and solar are being built in production rapidly and CCS isn't and won't be in comparable scales because the economics don't support it. Both are busted myths.
Via
D'un Renard