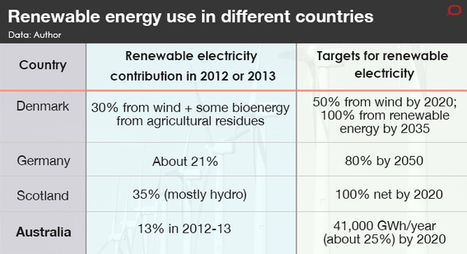 ... we already have technically feasible scenarios to run the Australian electricity industry on 100% renewable energy — without significantly affecting supply.
It turns out that wind and solar photovoltaic are only unable to meet electricity demand a few times a year. These periods occur during peak demand on winter evenings following overcast days that also happen to have low wind speeds across the region.
Since the gaps are few in number and none exceeds two hours in duration, there only needs to be a small amount of generation from the so-called flexible renewables (those that don't depend on the vagaries of weather): hydro and biofuelled gas turbines. Concentrated solar thermal is also flexible while it has energy in its thermal storage.
Many regions of the world could operate a 100% renewable electricity system reliably without any baseload power stations.
Considering that Australia has much greater solar energy and wind potential than the European countries, its present renewable contribution and its 2020 target (see chart above) are both modest.
Moving to 100% renewable electricity is safe, technically feasible and affordable. It can cut greenhouse gas and other emissions and land degradation, while creating local jobs and energy security. It is ready to go!