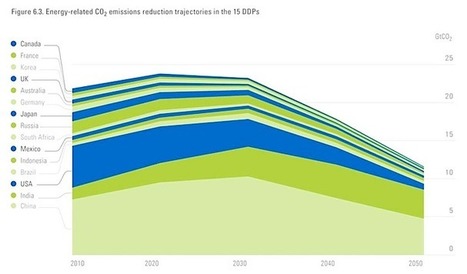 As unprecedented storms, extinctions, and water, food, and energy wars continue to touch our world, warnings about destructive human-made climate change multiply and increase in stridency. At the United Nations in New York yesterday, some possible solutions were officially released. (VIDEO available here.)

Deep Decarbonization is the first global cooperative program to identify practical pathways for major industrial economies toward a low-carbon world economy by 2050. Unlike many recent assessments, it focuses on potential solutions rather than agonizing statistics and definitions.
The Deep Decarbonization Pathways Project (DDPP) is a collaborative initiative to understand and show how individual countries can transition to a low-carbon economy and how the world can meet the internationally agreed target of limiting the increase in global mean surface temperature to less than 2 degrees Celsius (°C).
Jeffrey Sachs summarizes:
We are on a trajectory of some four degrees centigrade or more, depending on exactly the assumptions that one makes; and all of the evidence is that the business as usual path would be an absolutely reckless and unforgivable gamble with this planet.
"Change is in the air," says Secretary-General Ban Ki-moon. "Solutions exist. The race is on, and it's time to lead…. The report we are launching today shows how we can achieve deep decarbonization."