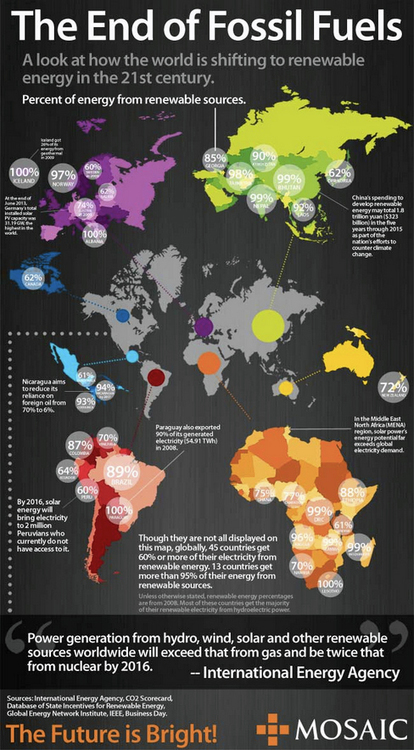 The world has seen three major energy epochs. The first started when we harnessed fire to cook, keep warm and light our nights. The second began when we figured out we could burn condensed ancient swamp muck (first coal, soon oil) to power our cars and radios. The third epoch only recently began.
Energy, the world's largest industry, is undergoing a tectonic shift. It's time to stop hedging our bets. It's time to embrace the idea that we have the power to transition the entire planet to 100% clean, renewable energy.
The shift didn't come out of nowhere. For decades, we've been developing better clean energy technologies, even as the fossil fuel industry has (literally) dug itself into a very deep hole.
The overall trend is clear. Our energy world is turning upside down. All over the world, it's starting to make more financial sense for people to power their lives with clean energy rather than dirty fuels.
100% is Already Happening
One hundred is not only achievable, it's fast becoming the new normal.
To get a sense of our moment, google "100 percent clean energy" or "100 percent renewable energy." You'll find that major companies, cities, states, regions, and even countries are all operating under a new energy paradigm. https://www.google.com/search?q=100+percent+renewable+energy&oq=100+percent+renewable+energy
The transition to 100% clean energy is inevitable. The only questions are how fast we can do it and who will benefit from the investments we need to make.
100% is a movement about abundance and possibility. It's about taking charge of creating the world we all want to see and driving forward the set of solutions we need so our children will inherit a healthier, happier and more prosperous world than the one we were born into.
Updated graphic at: https://joinmosaic.com/blog/end-fossil-fuels/
Via
kate gilmartin