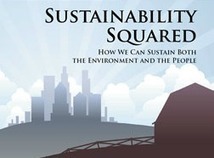 Imagine a world in which all people enjoyed a decent modern lifestyle without unduly degrading the natural resources on which future generations will depend. In such a world, people would live healthy, safe, well-educated lives, with ample opportunity to do productive and rewarding work, in a democratic, egalitarian society. Scandinavian nations already come much closer than the United States to providing such a lifestyle, with far lower per capita natural resource consumption.(Source: Dollars & Sense)
How can everyone—including residents of impoverished developing countries—enjoy such a lifestyle without wrecking the earth's land, water, and air? In fact, we already have—or can easily develop—the necessary technology. It requires far less input of natural resources but often more input of labor; in short, it creates more and better jobs.
Such technology does not mean regressing to some primitive state. It just means shifting the proportions of labor and natural resources, and—by raising demand for labor—necessarily compensating labor better.
That's what sustainability squared means. We can have it all; we can save the environment using existing technology to create decent jobs and better lives for everyone.