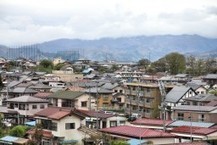 The region is still struggling to recover from the devastating impacts of the 2011 nuclear meltdown.
"Tokyo is shoving nuclear power plants and nuclear waste to other regions, while enjoying the convenience (of electricity) as a big consumer," Hosokawa said during a late January news conference. "The myth that nuclear power is clean and safe has collapsed. We don't even have a place to store nuclear waste. Without that, restarting the plants would be a crime against future generations."
Fukushima currently gets 22 percent of its energy from renewable sources. In November, a 2-megawatt offshore wind turbine started operating about 12 miles off Fukushima's coast. Two more 7-megawatt turbines are in the planning stages. The Japanese Ministry of Economy, Trade and Industry has said that total offshore wind capacity may reach up to 1,000 megawatts.