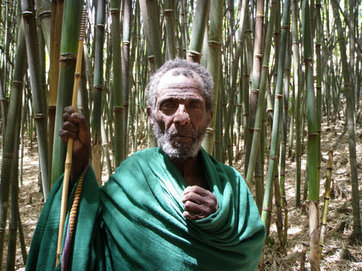 In the fight to reverse deforestation and environmental ruin in Africa, some are using a fast-growing, renewable weapon.
In the district of Asosa, the land is thick with bamboo. People plant it and manage the forests. They rely on its soil-grabbing roots to stabilize steep slopes and riverbanks, cutting erosion. They harvest it to burn for fuel, to make into charcoal sticks to sell to city dwellers and to build furniture.
Deforestation starts a vicious circle of drought and environmental decline. Burning wood releases the carbon stored inside. And deforestation accounts for at least a fifth of all carbon emissions globally. As tree cover vanishes, the land dries out and the soil erodes and becomes barren — a major reason for Ethiopia's periodic famines.
How does bamboo improve on hardwood? Cut down a hardwood tree and it's gone. It will take several decades for another to grow in its place; it can take a century for a forest to grow back after cutting. But bamboo is a grass, not a tree. Under the right conditions, it can grow a full meter a day — you can literally watch it grow. It is also fast maturing. A new bamboo plant is mature enough to harvest after three to six years, depending on the species. Most important, bamboo is renewable. Unlike hardwood trees, bamboo regrows after harvesting, just as grass regrows after cutting. After it is mature, bamboo can be harvested every single year for the life of the plant.
Because bamboo requires few nutrients, it can grow in soil inhospitable to other plants — not only does it thrive there, it can reclaim the land so other plants can thrive, too. Its roots leach heavy metals from the soil, hold the soil together and draw water closer to the surface.
Via
Rena Brar Prayaga