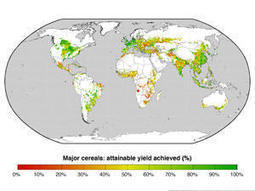 Can we have enough to eat and a healthy environment, too? Yes -- if we're smart about it, suggests a study published in Nature this week by a team of researchers from the University of Minnesota and McGill University in Montreal.
Global demand for food is expected to double by 2050 due to population growth and increased standards of living. To meet this demand, it is often assumed we will need to expand the environmental burden of agriculture. The paper, based on analysis of agricultural data gathered from around the world, offers hope that with more strategic use of fertilizer and water, we could not only dramatically boost global crop yield, but also reduce the adverse environmental impact of agriculture.
"This work should serve as a source of great encouragement and motivation for those working to feed the 9-billion-plus people anticipated to live on this planet in 2050 while protecting Earth's indispensible life support systems."
Via
David Hodgson