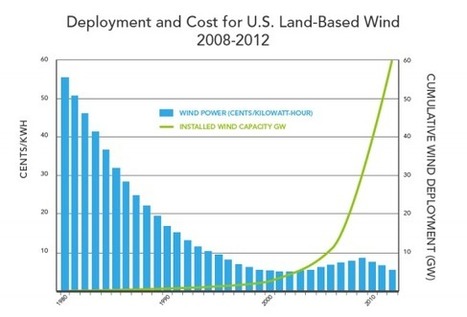 "We are living it, and it is gaining force."
It would be hard for most Americans to look around and conclude that we are in the middle of an historic shift in our energy sector. Gas-powered cars still dominate the roads, most of us don't own a solar PV system, and more than 70 percent of homes still rely on 100-year-old incandescent light bulbs.
But within the energy industry, there are major improvements in the economics of renewables, electric vehicles and lighting that are accelerating an increasingly rapid shift in certain sectors.
A new report from the Department of Energy report lays out some of these advances in wind, solar PV, LED lighting and electric vehicles throughout the U.S. They're worth a look.
Framing these trends as proof that the "clean energy economy" is now upon us would be a stretch. If anything, it shows how much experience an industry needs to bring down costs. But these are signs that some pretty big changes are underway in the energy industry -- and Americans are increasingly going to see these changes not just in colorful charts, but in their neighborhoods.
"The trends in each sector show that the historic shift to a cleaner, more domestic and more secure energy future is not some far away goal. We are living it, and it is gaining force," conclude the authors of the DOE report.