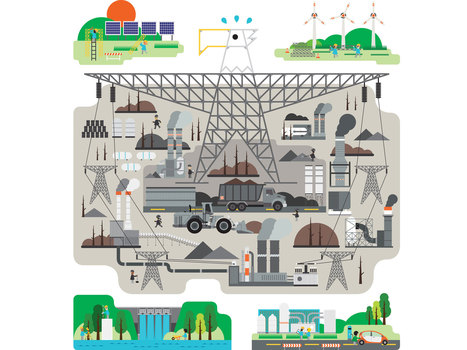 Wind, water and sun could power the United States. But will they?
A National Research Council report released last week concluded that the United States could halve by 2030 the oil used in cars and trucks compared with 2005 levels by improving the efficiency of gasoline-powered vehicles and by relying more on cars that use alternative power sources, like electric batteries and biofuels.
"It's absolutely not true that we need natural gas, coal or oil — we think it's a myth," said Mark Z. Jacobson, a professor of civil and environmental engineering and the main author of the study, published in the journal Energy Policy. "You could power America with renewables from a technical and economic standpoint. The biggest obstacles are social and political — what you need is the will to do it."
Fatih Birol, chief economist at the 28-nation International Energy Agency, which includes the United States, said that reducing fossil fuel use was crucial to curbing global temperature rise, but added that improving the energy efficiency of homes, vehicles and industry was an easier short-term strategy. He noted that the 19.5 million residents of New York State consume as much energy as the 800 million in sub-Saharan Africa (excluding South Africa) and that, even with President Obama's automotive fuel standards, European vehicles were on average more than 30 percent more fuel efficient than American ones.
So as Europeans have grown accustomed to wind turbines dotting the landscape, much of America continues to regard renewable power as a boutique product, cool but otherworldly. When I tell colleagues that Portugal now gets 40 percent of its electricity from renewable power, the standard response is "Portugal is windy." But many places in America are, too. When I returned from Kristianstad, Sweden, and marveled at how that city uses waste from farms, forestry and food processing plants to make biogas that supplies 100 percent of its heat, the response is likewise disbelief. But I'd venture that a similar plan could work fine in Milwaukee or Burlington, Vt., cities that also anchor rural areas.
MAPPING studies by Dr. Jacobson and colleagues have concluded that America is rich in renewable resources and (unlike Europe) has the empty space to create wind and solar plants.