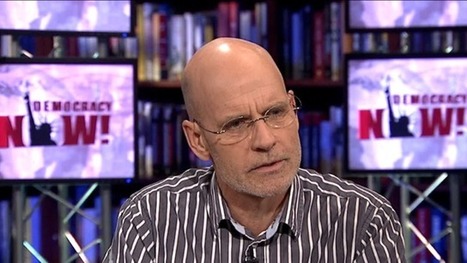 EXCELLENT VIDEO;
As the carbon dioxide in the air hits 400 parts per million for the first time in human history, some are arguing that the best way address climate change is to use the controversial practice of geoengineering — the deliberate altering of the Earth's ecological and climate systems to counter the effects of global warming. ...
The arguments for and against climate engineering revealing the extent of vested interests linking researchers, venture capitalists and corporations with Clive Hamilton, professor of public ethics at Charles Sturt University in Canberra, Australia, He's the author of Earthmasters: The Dawn of the Ag, e of Climate Engineering.
There's virtually no regulation of geoengineering. And when it comes to sulfate aerosol spraying, there's nothing to prevent a government, any government, or even a corporation or a billionaire with a messiah complex, from launching a program of taking control of the Earth's weather by installing this kind of solar shield. So the absence of governance, the absence of regulation and the exclusion, particularly of people from poor and vulnerable countries, is a very serious concern….
http://thenaturaleye.wordpress.com/2011/08/03/raining-chemicals-from-the-skies-geoengineering/
ORIGINAL SOURCE: http://www.democracynow.org/2013/5/20/geoengineering_can_we_save_the_planet
TAR SANDS OIL EXTRACTION - THE DIRTIEST OIL ON EARTH
WATCH: "THE DIRTY TRUTH" http://sco.lt/6OpdeT
US CLIMATE BOMB IS TICKING: WHAT THE GAS INDUSTRY DOESN'T WANT YOU TO KNOW http://sco.lt/5BIftR
FRACKING OURSELVES INTO OBLIVION http://sco.lt/8mKlIP
May 20, 2013 Guardian Environment
MULTINATIONAL OIL CORPORATIONS BUYING OFF GOVERNMENTS: TAR SANDS EXPLOITATION WOULD MEAN GAME OVER FOR CLIMATE, WARNS LEADING SCIENTIST: http://www.guardian.co.uk/environment/2013/may/19/tar-sands-exploitation-climate-scientist
May 20, 2013 Guardian Environment
HEARTLAND INSTITUTE WASTES REAL SCIENTIST' TIME = YET AGAIN WITH ANTI CLIMATE CHANGE PROPOGANDA http://www.guardian.co.uk/environment/climate-consensus-97-per-cent/2013/may/20/heartland-institute-scientists
Via
pdjmoo