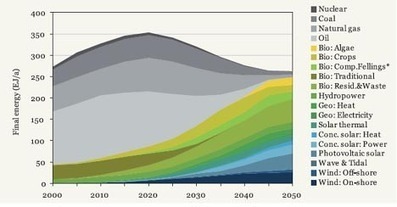 Energy consulting firm Ecofys produced a report detailing how we can meet nearly 100% of global energy needs with renewable sources by 2050.
Ecofys forsees that global energy demand in 2050 will be 15% lower than in 2005, despite a growing population and continued economic development in countries like India and China.
To achieve the necessary renewable energy production, Ecofys envisions that solar energy supplies about half of our electricity, half of our building heating, and 15% of our industrial heat and fuel by 2050. This requires an average annual solar energy growth rate much lower than we're currently achieving - an encouraging finding.
The report notes that wind could meet one-quarter of the world's electricity needs by 2050 if current growth rates continue, and sets that as its goal. Ecofys also envisions more than one-third of building heat coming from geothermal sources by 2050. If we double current geothermal electricity production growth rates, it can provide 4% of our total electricity needs by that date. Ocean power, through both waves and tides, accounts for about 1% of global electricity needs in 2050. Hydropower, which currently supplies 15% of global electricity, ultimately supplies 12% in the Ecofys scenario.