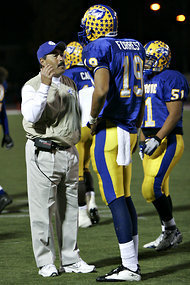 A group called Positive Coaching Alliance is training thousands of coaches and parents to change to culture of youth sports for the better.

Imagine you're coaching a big soccer game, against an undefeated team that has beaten your team in all your previous matches. Your 11-year-olds are playing well and are ahead. Then, in the closing minutes, the official makes a bad call that goes against you and, because of it, you lose. After the game, the parents of your players scream at the official. The kids are disappointed, looking up at you. What do you do?

Or you're coaching tee-ball and one of your 5-year-old players has failed to get a hit so far. Now, he's up again in a crucial situation and is nervous. All eyes are on him. His first swing misses high. The second misses low and knocks the ball off the tee. You call him over to offer some help. What do you say?
Via
Dennis Richards