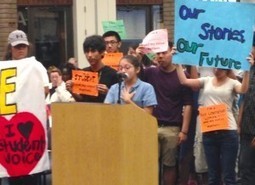 Last fall, high school sophomores Stephanie Perez and Ismael Mauricio joined a contingent of students at a State Board of Education meeting demanding that students get a say in how school districts spend money.
The state board listened; its regulations for the new school funding formula now require districts to explicitly consult students before they write their annual spending plans under the Local Control Funding Formula.
Perez's and Mauricio's principal at Overfelt High School in San Jose listened, too, in a way that surprised them. Vito Chiala turned over $50,000 of the school's discretionary funding to students to spend however they chose.