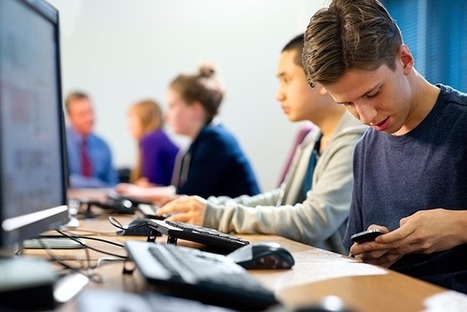 Multitasking Increases Study Time, Lowers Grades
July 23, 2015
communication
social sciences

Scan a college classroom these days and you are just as likely to see students texting and surfing the Web as taking notes.

iStock_000025305709_web
Many students feel there is nothing wrong with sending out a few quick texts or jumping on Facebook during class, and many are proud of their self-perceived ability to keep abreast of classroom discussion while their attention is divided.

But a new study by researchers at the University of Connecticut shows multitasking is hurting college students more than they think.

In a survey that probed the multitasking habits of more than 350 college students, UConn researchers found that students who multitasked while doing homework had to study longer, and those who frequently multitasked in class had lower grades on average than their peers who multitasked less often.

While prior studies have reported that classroom multitasking can hurt students' grades, the UConn study is believed to be the first to take into account whether students' prowess at multitasking and additional time spent studying offset the tendency for poorer academic performance. It did not.

"While texting and learning to use media are important for socialization and the use of technology is an important skill, our data shows that students are paying a price for this behavior," says Saraswathi Bellur, an assistant professor in UConn's Department of Communication and one of the study's principal investigators.

Texting was far and away the most frequent multitasking distraction, followed by logging on to Facebook, checking email, and surfing the Web.

While taking longer to complete homework due to a lack of focus may be an inconvenience and a sign of bad study habits, missing classroom discussion due to multitasking is particularly troublesome.