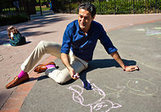 Despite millions of users, apps are not a surefire moneymaker for cautious studios.
Hollywood is watching and wondering. It would help solve a continual problem for studios, which require more fresh source material than is available. With production companies cranking out more than 700 films and 50 major new television shows a year, even agents joke that there are no new ideas, only new screenwriters.
Lately, a mobile start-up called Outfit7 has been offering itself as a potential solution. Outfit7 is behind Talking Friends, a collection of 19 apps in which cartoon animals respond to a user's touch and repeat (almost) anything in funny voices.
The Talking Friends apps, most of which are free, are hugely popular — about 500 million global downloads and more than 120 million active monthly users, according to an Outfit7 executive, Narry Singh, who uses the title "chief business guru."
Guided by senior agents at William Morris Endeavor, Outfit7 has recently started to pursue movie and television deals based on its characters, which include Tom, an irreverent cat, and Ben, a gassy dog. "The studio system is waking up to the power of mobile as a form of franchise creation — that the next Shrek or Mickey Mouse could start as an app," contended Andy Mooney, an adviser to Talking Friends and the former chairman of Disney Consumer Products.
Via
Gary Hayes