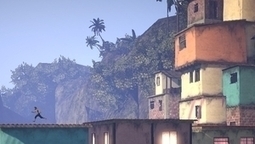 Papo & Yo creator Vander Caballero talks about his unique puzzle platformer,…...
It's not every day you stumble across a video game that is, at its core, about the fear and pain of growing up with an alcoholic, abusive father. But it's just that kind of personal backstory that makes upcoming PS3 indie puzzle platformer Papo & Yo stand out among crowds of first-person shooters and throwaway casual games that seem to be the focus of much of the industry these days.
Not that the game is in your face about its message. You can play Papo & Yo and be totally unaware of the specific inspiration for the game's hulking pink monster, who can eat frogs to transform from being young protagonist Quico's best friend into an uncontrollable force of nature that is Quico's biggest threat. But creator Vander Caballero said he hopes the metaphorical beast will convey the feelings he had growing up in a house with just such an unpredictable parent.
"I just remember how afraid and how out of control I was in the world I was living in and how I couldn't do anything to save the situation even if I wanted to," Caballero said during a demonstration of the game last week. "I was just really vulnerable, and the only way I could get some control of my life was to play games and toys."...
Via
siobhan-o-flynn