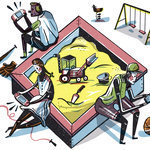 Readers discuss digital entertainment and child development.
"Many parents and educators express concern about the amount of time that children spend with digital devices, and I am among them. A recent front-page article, "Wasting Time Is the New Divide in Digital Era," does a good job of conveying the many hours kids spend in front of a screen daily.
However, like so much coverage on this topic, it also assumes that every digital activity that is not expressly educational is "time-wasting" and does not discuss the many reasons families choose digital entertainment. As a children's media researcher, I'd like to draw attention to its benefits.
Playtime is not wasting time, regardless of format ..."
Via
Carisa Kluver