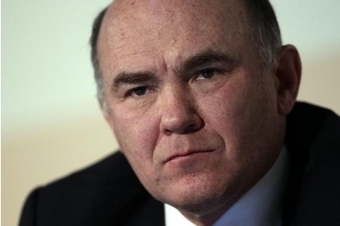 Better Together #donergate reaches Commons as new dodgy Vitol deal emerges
.
Robbie Dinwoodie Chief Scottish Political Correspondent Thursday 25 April 2013
.
THE row over political donations by the head of oil trader Vitol was taken to the heart of Westminster when the issue was raised at Prime Minister's Questions by the SNP.
.
The party's Westminster leader Angus Robertson brought up the matter of the company's past payment of $1 million to Serbian warlord Arkan, and questioned whether it was appropriate for David Cameron to accept donations from the head of the company, Ian Taylor.
It can be revealed that the payment to Arkan, which the company does not deny, was not Vitol's only controversial deal in the former Yugoslavia.
In late 2003, the Swiss-based firm struck a deal with the Bosnian Serb government to supply crude oil to help re-open a mothballed refinery. The contract was signed by economy minister Milan Bogicevic, who was also on the board of state oil company SDS.
Just over six months later, UN High Representative Paddy Ashdown stripped him of all offices, naming him for harbouring indicted war criminals.
Vitol came under scrutiny when its chief executive, Mr Taylor, a donor to the Conservative Party who was dined at Downing Street by the PM, emerged as the largest donor to the Better Together campaign.
Dealings by the company in Serbia, Iraq, Iran and Libya then came to the fore as Nationalist critics questioned the morality of Mr Taylor's money. Vitol has stressed that in the case of the payment to Arkan, there has never been any suggestion that this breached any law.
Mr Robertson intervened at Prime Minister's Questions on the issue of the G8 seeking to target sexual violence in war.
He said: "The Government are absolutely right to prioritise the combating of sexual violence in conflicts in their chairmanship of the G8, but the Prime Minister would have more credibility on the subject if he did not accept hundreds of thousands of pounds from, and have private dinners at Downing Street with, Mr Ian Taylor.
"Mr Taylor's company, Vitol, has admitted having dealings with the notorious Serb war criminal Arkan, who was indicted for 'wilfully causing great suffering, cruel treatment, murder, wilful killing, rape, and other inhumane acts'."
Mr Cameron said it was "regrettable that the Hon Gentleman tries to play some sort of political card".
Mr Robertson said after the exchanges: "David Cameron completely ignored the question – laying bare that he has no defence. Labour MP John Mann, a member of the Treasury Select Committee, described Mr Taylor's donations to the Tories as 'dirty money', and has called for this money to be handed back."
Mr Robertson added: "Ian Taylor is also the principal funder of the anti- independence No campaign, giving £500,000 after meeting the No campaign chair Alistair Darling. Both the Tories and No should give the money back."
Lord Ashdown ruled on July 1, 2005 against Bogicevic, who had been a key figure for over a decade. He was accused of holding "the reins of political power in Republika Srpska".
He said in his finding against Bogicevic: "The Entity's failure to apprehend those indicted individuals in flagrant disregard of Bosnia and Herzegovina's obligations under international law is, therefore, a damning indictment of SDS [Serb Democratic Party] commitment to proper governance.
"Given its dubious legacy as the political party founded by and initially presided over by Radovan Karadzic, it was doubly incumbent upon SDS to effect expiation and rehabilitation by proactively pursuing and bringing to book the erstwhile architects of its odious policies which so disfigured the polity."
His finding continued: "That it has not done so is a testament, at best, to its negligent abdication of governmental responsibility or, at worst, to its concerted will to obstruct peace implementation by clinging to vestiges (and figures) of its bankrupt past."