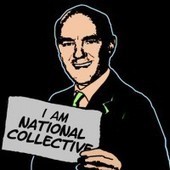 The Ballad Of National Collective
.
Posted by Greg Moodie on April 19, 2013
.
"To learn who rules over you, simply find out who you are not allowed to criticise." -Voltaire
.
In the light of the legal challenge from Better Together's principal donor, 'not at all dodgy' Ian Taylor, we, the pesky secessionist scamps at National Collective, took a vow of silence pending a full statement. This was more difficult than it sounded, as some of us are deeply committed to having fun at the No campaign's expense and practise it daily like a martial art. (I eventually cracked and began tweeting under the anagrammed pseudonym Ed 'Romeo' Gig. Don't tell Ross. I think I got away with it.)

But during the silence, it was fascinating to monitor the unfolding story and heartening to see so many messages of support. Interesting, too, to read that National Collective is essentially a 'young person's thang'. This was news to me, as I'm old enough to have laughed in the face of the poll tax and even remember voting for Labour when there was still a point to it. Anyway, I believe youthfulness is a state of mind. I refuse to start wearing cardigans and smoking a pipe just because I was alive when Let It Be came out.

Amidst our monitoring, I found one piece especially noteworthy. Wednesday's Newsnight Scotland featured an interview with The Guardian's Scotland correspondent, Severin Carrell. In an otherwise fair account of how National Collective brought the Donorgate story to everyone's attention, he said, a little condescendingly:

"There's a clash here between the way that professional journalists and news organisations would operate and the way in which campaigners are operating, and the campaigners perhaps haven't quite had the experience, knowledge, legal advice that may have prevented some of the problems they're now encountering."

There is a clash in as much as the campaigners wanted to cover the story and the professional journalists, for whatever reason, did not, despite the material already being in the public domain. (The Herald even had Ian Taylor write on why he was funding the No campaign.) Only when the story became too big to ignore did they speak up, and then there didn't appear to be much difference between the modus operandi of the campaigners and the hacks at all, as The Herald too was served with a legal letter.

If campaigners and bloggers feel that the mainstream media is failing them, no-one should be surprised if they start doing the job themselves. Citizens' journalism may lack some of the niceties of professional hackery, but we can drink just as heavily and are equally lazy. And if the hacks don't think the 'colourful' background of the man bankrolling the No campaign is a story, we'll have to plug the gap.