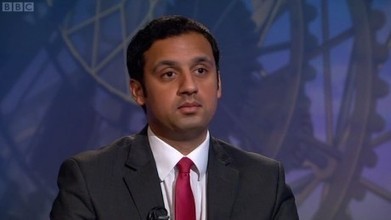 Raising the level of debate
.
Posted on January 16, 2013 by Rev. Stuart Campbell
.
Ten days ago, Scottish Labour "deputy" leader Anas Sarwar issued a press release in his capacity as head of Labour's referendum campaign, noting that "[Nicola Sturgeon] is right to say there has been a lot of negative campaigning. We will be raising the level of debate and ensuring that Scotland gets the level of debate it deserves."

Here are some extracts from Sarwar and his independence-fearing colleagues' contributions to yesterday's epic House of Commons "debate" (in which one side got around 10 times as long to put its case as the other) on the motion giving the Scottish Parliament the power to conduct the independence referendum.

Make your own judgement as to how they did, and the level of debate they apparently consider Scotland deserves.

————————————————————————————————

Mr Ian Davidson (Glasgow South West) (Lab/Co-op):

"We see no reason for delaying the referendum until the end of 2014, except for perceived partisan advantage. The referendum will be timed to take place after the anniversary of the battle of Bannockburn, which is celebrated mainly because Scots slew large numbers of English people, and after the Commonwealth games in Glasgow. The fact that those events will take place before the referendum gives people the opportunity to celebrate the politics of identity and ethnicity.

We thought that Scotland in the 21st and 22nd century would be looking forward, and would be progressive and positive. Celebrating the murder of hundreds or thousands of English people does not necessarily provide the best base on which to move forward."

Jim McGovern (Dundee West) (Lab):

"Does [Mr Davidson] find it somewhat odd that the former England football captain, Terry Butcher, will be entitled to vote in the referendum, but Sir Alex Ferguson will not?"

Jim Sheridan (Paisley and Renfrewshire North) (Lab):

"Does my hon. Friend agree that one of the nauseating things about some of the people who donate money to the SNP from abroad is that they live abroad to avoid paying tax, and yet they want to tell us in Scotland, who pay our taxes over here, how to live? That includes Sean Connery."

Mr Ian Davidson (Glasgow South West) (Lab/Co-op):

"It is true that not only will Terry Butcher be able to vote and Alex Ferguson will not, but according to the Team GB information that we have, of the 11 Scottish Olympic medallists, only one is reported to be resident in Scotland. If people are good enough to represent Scotland at the Olympics and win medals on Scotland's behalf, one would have thought that the rules would be sufficiently flexible to allow them to participate in the referendum."

[Absolutely nobody, of course, "represented Scotland" or "won medals on Scotland's behalf" at the Olympics. Scotland is not a participating nation at the Olympics. At least not yet, anyway. The athletes in question represented "Great Britain".

But let's see if we can get this straight: It's disgusting that the referendum should be about ethnicity, but ethnic Scots who don't live in Scotland (like Alex Ferguson) should get the vote, in preference to non-ethnic Scots who do live in Scotland (like Terry Butcher), but other ethnic Scots who don't live in Scotland (like Sean Connery) shouldn't have any kind of say at all? Have we got that right?

Basically, the franchise according to Labour whould be "ethnically Scottish people, regardless of where they live, unless they might vote Yes".]

Ian Murray (Edinburgh South) (Lab):

"My hon. Friend has just mentioned the late, great Donald Dewar, who said that the decade from 1998 should not be a decade of stifling the Scottish Parliament, but since the SNP got a majority in that Parliament, has not its whole ethos indeed been stifled?

What we have seen since 2007—although more so since 2011—is a party that has taken the wonderful institution that is the Scottish Parliament and turned it into little more than a talking shop for the ruling party."

Anas Sarwar (Glasgow Central) (Lab):

"I do not think that anybody in this place should be naive about the current make-up of the Scottish Government and the SNP. We have a majority SNP Government in the Scottish Parliament, but that is not a democratic place in the conventional sense; it is a dictatorship of one man sitting in Bute House, who will do not what is in Scotland's interests, but what is in his own or his party's interests."

[The only rational interpretation we can possibly put on these comments is that the "ethos" intended for the Scottish Parliament by the late Mr Dewar was that it should not be run by the SNP. Apparently majority government is "strong" if it's Tony Blair or Gordon Brown having absolute control of a Westminster parliament on 35% of the vote and running it from their sofa, but a "dictatorship" if it's an SNP leader commanding a majority at Holyrood on 45% of the vote.]

Mr Michael McCann (East Kilbride, Strathaven and Lesmahagow) (Lab):

"We all share some trepidation about the motivation of the people who will receive the power if the order is passed. Some people once mused that devolution would see off Scottish nationalism for ever. Others thought that the voting system in Scotland was so cleverly devised that no single party would ever seize control, and certainly not the Scottish National Party. How wrong can you get?"

[...and should the people of Scotland be so foolish as to grant that "dictator" power over the running of the entire country, he'll probably start another World War or ethnically-clease Glasgow and send all the Labour voters to a slaughterhouse as sausage-meat or something. Because we can't be sure of his "motivations", the slippery wee bastard who "seized control" by somehow unaccountably winning two democratic elections.]

Mr Michael McCann (East Kilbride, Strathaven and Lesmahagow) (Lab):

"Questions have been asked about the permanent secretary and how he behaves towards the SNP Government. We have to be assured that the people at the top of the civil service in Scotland can give truth to power, and we must know that, if questions are raised about the legality or fairness of certain decisions, the civil service will stand up to its political masters.

There are 30,000 UK public servants in Scotland working for a range of different Government Departments. They have to have the ability to express their views in this debate and be free to speak. I would therefore welcome an assurance from the Secretary of State that those individuals will have that freedom and that it will not impinge on their contracts of employment, under which they have to be impartial in their duties as civil servants."

Cathy Jamieson (Kilmarnock and Loudoun) (Lab/Co-op):

"Anyone who is seen to disagree with independence finds themselves subjected to cyber-warfare through the Twitter feeds; or, if they work in the voluntary or charitable sector, finds that they receive a phone call; or, if they are a business, finds that they do not get invited to the same circle of events."

[Under the Evil Nationalist Reich, civil servants will be slaves of the dictatorship. Charity workers will be threatened. Businessmen will be ostracised. Heretics may be sent to "re-education" camps, never to be heard of again. Neighbour will inform on neighbour, all the while in terror that they will be the next to be denounced as an enemy of the state. The McStasi will crush all dissent. Etc etc.]

Mr Alan Reid (Argyll and Bute) (LD):

"The evidence that the Committee took from opinion poll experts was that the question is not just biased, but ridiculously biased, and that no self-respecting polling organisation would ever ask such a question."

Mrs Eleanor Laing (Epping Forest) (Con):

"It is such a biased question that even I would answer yes—of course, Scotland should be, is and always has been an independent country. It is a non-question. There is no point going through the rigmarole of a referendum, spending hundreds of millions of pounds, to ask a meaningless question. If even I would answer yes, the facts speak for themselves: the question is enormously biased."

[Is the referendum actually going to cost "hundreds of millions of pounds"? Do we have a source for that? It seems rather a lot. And is it even possible for a question to be "ridiculously, enormously biased" and "meaningless" at the same time?]

Graeme Morrice (Livingston) (Lab):

"The SNP has already attempted to use its majority in the Scottish Parliament to propose questions it believes will deliver its desired outcome. Those questions have been deemed biased by the cross-party Scottish Affairs Committee."

[The same "cross-party" committee which is entirely populated by Unionist members, the only SNP representative having been intimidated out of attending by threats of violence from the chairman, and which displays its neutrality by performing its work under the title "The Referendum On Separation For Scotland".]

Margaret Curran (Glasgow East) (Lab):

"For many years I have argued with the SNP, which wants to say that the problem facing Scotland is the English."

Rory Stewart (Penrith and The Border) (Con):

"Independence will not cause the war between England and Scotland to start again. Those days of savagery, murder, pillage and rape – what we saw in Cumbria for 400 years – will not return, because the world has changed."

[Only for that reason? Despite the fact that the SNP hate the English so very much? Especially those damned Cumbrians.]

————————————————————————————————

We make the jokes. But astonishingly, not a single Scottish or UK newspaper reported on any of the insanity above. The Herald led with stories about horsemeat being found in cheap Tesco burgers and a helicopter crash in London, despite officially deeming itself a "regional" newspaper concerned with Scotland. The Scotsman's top headlines were the horsemeat story and American cyclist Lance Armstrong appearing on an American TV show, not elected Scottish MPs calling the Scottish Government a corrupt, anti-democratic, anti-English dictatorship.

Cathy Jamieson was not called upon to provide examples of voluntary-sector workers receiving mysterious and presumably menacing "phone calls". Michael McCann was not challenged on the assertion that the head of the Scottish civil service was in gross dereliction of his duty by "going native".

Margaret Curran was allowed to get away with the appalling lie that the SNP blame the English for everything. Anas Sarwar was not pulled up on calling the Scottish Parliament with its 63 non-SNP MSPs out of 129 a "one-man dictatorship", nor indeed on whether his comments represented a "raising of the level of debate".

The absurd inconsistencies in Labour's muddled pronouncements on eligibility criteria were not addressed. Ian Davidson was not questioned over the claim that the timing of the referendum was decided in order to make it about "celebrating the murder of hundreds or thousands of English people", even though the only reason the referendum didn't take place in 2010 was that Labour spent years blocking a minority Scottish Government from holding it.

(And just by the by, is killing an invading force in the defence of your homeland really "murder"? That's going to have some pretty serious implications for international war-crimes law, we'd have thought.)

The debate was over by early evening, with many of the comments having been made by lunchtime, so there's no excuse for newspapers not reporting it. Readers can draw their own conclusions about their total silence. But whatever those may be, we feel safe in asserting that neither the disgraceful things said in the Palace of Westminster yesterday, nor the complete lack of mention of them in Scotland's free press, represents "the level of debate Scotland deserves".