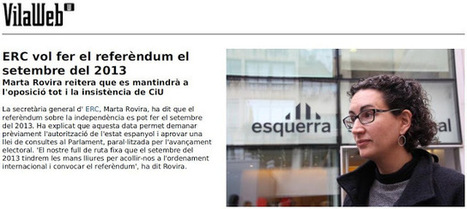 Stunning news: the ERC (Esquerra Republicana de Catalunya), the pro-independence Catalan Republican Left party which is currently engaged in negotiations with the CiU (Convergence and Union), the pro-independence centre-right governing party, with a view to creating a pact for the purpose of providing Catalonia with a stable government until an independence referendum can be held, has revealed that it envisages that such a referendum could take place less than a year from now!
In an interview today on Catalunya Ràdio the General Secretary of the ERC, Marta Rovira, stated that the referendum should be held in September 2013 (over a year before the Scottish independence referendum is due to take place), as this would allow enough time to go through the motions of making a formal application to the Spanish government before passing the necessary enabling legislation in the Catalan Parliament and appealing to the international community.
Needless to say, the ERC is well aware of the timing of events in Scotland with which some degree of interaction is no doubt anticipated and indeed hoped for.