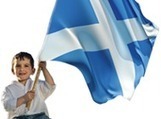 Scottish CND says Yes vote only way to remove WMD
Sun, 18/11/2012 - 14:41
The SNP has welcomed comments for the Scottish CND saying that the only way to remove nuclear weapons from our land is to vote Yes for an independent Scotland.
At the SCND's annual conference, delegates passed a resolution that agreed to support the YES campaign.
And its chairman Arthur West said: "The independence referendum provides a great opportunity not just to remove Trident from Scotland, but to achieve nuclear disarmament in Britain...On the issue of nuclear disarmament, our advice is to vote YES."
Commenting, SNP MSP Bill Kidd who is a Co-President of the Parliamentarians for Nuclear Non-proliferation and Disarmament (PNND), said:
"This is a very welcome endorsement from the Scottish CND.
"The truth is there to see - the only way to rid Scotland of these unwanted and unusable weapons of mass destruction is to vote Yes in 2014.
"The vast amount of tax-payers' cash squandered by the Tory-led UK government on designing the new Trident system is a staggering waste of money.
"With the powers of an independent Parliament we could spend Scotland's share of Trident spending on key public services.
"The vast majority of MSPs, as well as the churches, trade unions, and civic society across the nation totally oppose Trident nuclear weapons being based in Scotland.
"As recognised by the SCND, a key advantage of being independent is that it is the only constitutional option which gives Scotland the powers to have Trident removed from Scottish waters.
"The people of Scotland neither needs nor wants nuclear weapons of mass destruction – and with Labour siding with the Tories on Trident the only way we can rid our country of them is by voting Yes in 2014."