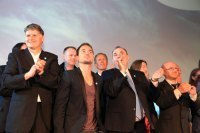 2014 is a referendum on relocating power, relocating the tools of democratic governance, from London to Scotland. 2016 is about the people of Scotland picking up these tools and using them in any damned way we choose. I'll say it again: 2014 is about DEMOCRACY. 2016 is about POLICY.
Everyone in the Independence movement needs to bust a gut explaining the difference between 2014 and 2016 to the Scottish people. If this means taking to task senior SNP Ministers as well as political pundits or prominent NO campaigners then so be it. Let's call it essential preparatory work.
To this end it would benefit the Yes campaign if yourself, Alex Salmond, and everyone involved in the Scottish government and the SNP actively challenged any assumption that SNP policies are the pre-ordained realities of an Independent Scotland.