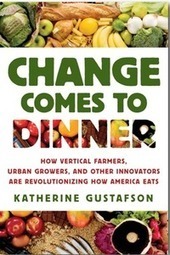 'Change Comes to Dinner: How Urban Farmers Are Changing Our Cities' blog post by Guest Contributors.
As city dwellers across the U.S. develop an interest in fresher, more local, and more sustainable food, innovative methods of producing food in urban areas multiply. These enterprises take all forms, from nonprofit urban gardening programs serving low-income residents; to massive farm businesses restoring blighted city blocks; to high-tech aquaculture companies producing food on rooftops.
There are thousands of urban-ag projects of many kinds blooming in towns and cities all across the country and serving a variety of nutritional and social needs.
Organizations like City Slicker Farms in West Oakland, California, demonstrate the potential of urban agriculture to help correct an imbalance that has developed in many cities — that of fresh food's availability in wealthier neighborhoods and relative paucity in inner-cities.
http://www.cityslickerfarms.org/
The organization maintains seven community market farms totaling less than an acre, which collectively produce 7,000 pounds of food a year to be sold at a central market stand to West Oaklanders at risk of food insecurity and malnutrition.